Post #9 The Burial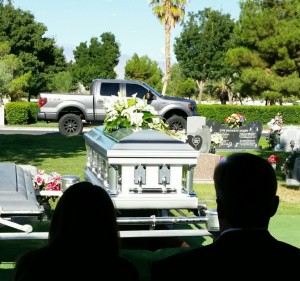 I just love this picture.  It has Trish and I, David and my truck.  David loved my truck.  I have always had big trucks.  I taught David to drive in one of my big trucks when he was 13.  I took him out on the main road and had him drive.  Man that boy was so happy.  That was one of his favorite memories.  I bought my truck after attending a funeral of a Muslim friend of mine.  After his funeral, I was so touched by its finality and thought, what am I waiting for?  You want that truck? so go get it.  I bought it the very same night as my friend's funeral.  David loved it and loved driving it.  Maybe if he had been driving it that night it he would still be here.  I still love that picture because of what it means to me personally.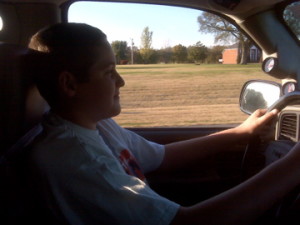 The day of David's burial was a Wednesday.  It was going to be at 9:00am.  It was hot that morning.  There were no clouds and the sun was up early.  It was hot.  We drove to the cemetery.  When we arrived, I looked to my right where David's plot was.  I saw the canopy with seats underneath.  And David's casket sitting over the hole they had dug for it.  The knot in my stomach just wrenched.  We parked and walking over.  Our family and a few friends were there.  Trish and I sat in the center front seats.  A front row view to our own son's casket.  I couldn't take my eyes off the casket.  I kept imagining David inside the casket.  Lying there inside, I thought about how in a very short time he and that casket would be lowered into the ground.  I would not see that casket again, ever.  I knew I would see David.  I know the resurrection is real and that one-day David's soul would be reunited with his body.  That is sweet doctrine and sustains me everyday.
The Bishop once again started the meeting off by welcoming everyone and had a few kind words.  Then I stood up and dedicated the grave.  In our church we dedicate the burial plot as the resting place for the deceased person.  You pray that the place will be hallowed and protected until the resurrection.  I really have no memory of the entire moment.  However, I asked my Mom what she remembered and she reminded me of something I had forgotten.  David's plot was located in a section close to the street.  The traffic was noisy and to some it was distracting.  I personally don't remember the noise and I guess that's to be expected.  What she did remember was that when I stood to give the prayer the cars stopped.  She said it was completely still and silent.  When I finished the cars started back up and continued as before.  Coincidence?  I think a tender mercy for a family who needed it.  Isn't it amazing how all around us everyday there are moments when heaven reaches out to us and does things that simply are remarkable even miraculous?  In my case, because of my state of mind I would not remember any of that.  Nevertheless heaven knew it would be important and intervened just when we needed it.  Some will say, oh Greg, it's just a matter of timing, or your Mom and others just thought that happened.  I tell you it happened and it was a tender mercy from heaven.  It has been my experience since David's death that my days have been filled with these kinds of things and others I cannot even mention.  Insight and understanding that has come that can only come from the spirit touching spirit.  There are things today that I simply know.  I cannot think of time when I did not know these things.  Yet, I know that before Davids death that I didn't know them.  It's hard to explain, but those who have had similar experiences know of what I speak.
The service took maybe 15 minutes.  Then it was time to go.  I wanted to stay and see them lower him into the ground; I wanted to see them put the dirt over him.  I wanted to see the sod be rolled over him.  I wanted to see it all.  However, that's not really in our culture as it is in some other cultures.  A month before David died I had attended a funeral of a friend who was Muslim.  I was fascinated by their service.  They carried the body on a board from the Hurst.  His body was in a white cloth that had no seams.  He was unclothed inside the cloth.  I spoke to an Imam who was attending from another state.  He was very nice and kind, he told me about the symbolism of a Muslim service.  Members of his family jumped down into the grave and they lowered his body down and placed him very carefully into the hole.  He had to be placed in an exact way. His body was placed so many inches from each of the walls.  Then each person at the service would go to a bucket and grab a handful of dirt and spread it over his body in the grave.  This was to symbolize that we all came from the dirt and we will return to the dirt.  His being unclothed in the cloth represented we all came into this world with nothing and we will all leave this world with nothing.  The funeral folks then filled the hole.  The family and friends witnessed it all.  As the dirt was filled family members would tamp the dirt down and spread water over it.  Then they rolled out the sod and connected the seams of the sod very carefully to blend it with the grass around.  They watered the grass, swept up around it and that was it.  I stood there marveling how it was undetectable that anyone was even buried there.  That was it.  It was as if this man never existed, He died, he was buried and then that was it.
Because of this experience I wanted to see David's through to the end.  However, it wasn't gonna happen.  We walked to my truck, said good by to some whom had to leave for the airport right away and then we went home.  That was it!  Done.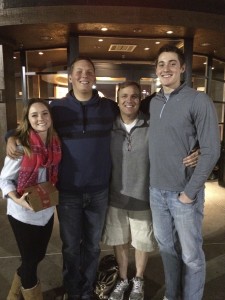 The next day or two we would say goodbye to family and friends who had to leave and get back to their lives.  Each one of those goodbyes literally tore at my heart.  I cried and longed for them not to leave.  I didn't tell anyone that, I just knew that when they left it meant I would have to go back to my life.  I was scared to death thinking how I was going to be able to go back to my life.  I knew it would never again be normal and it was going to be hard.  Most of the time I said goodbye then got in my truck and drove.  David was buried on a Wednesday, I got a call from the owner of our company that we had a few problems in one of our companies and she needed me to check on it.  I tried to go to work the next day Thursday; however, I could not get myself to do it.  It wasn't like me.  I just could not muster enough strength to go.  I decided I would go on Friday.  Friday morning I got up showered, got dressed for work and went into the living room.  My parents would be leaving that day and I would have to say goodbye to them right then.  It was so hard.  They had been such a great support to me and having them there was such a comfort to me.  Knowing I was going back to work and they were leaving was hard, very hard.  I hugged both of them and I just cried.  I got in my truck pulled out of the driveway and drove down the street a little ways.  I pulled over and just sobbed.  I was a 52-year-old man that has done and been through a lot of tough things in my life.  This was just way harder then I thought it would be.
I drove to Boulder City to visit a store that was having particular problems.  I cried off and on the entire way.  I rolled down my window turned on the radio I tried everything to distract me.  No chance.  When I walked into the store all of the employees greeted me and were so kind and said some of the kindest things.  It was really nice.  I walked behind the counter of our donut side of the business.  I looked into the bottled beverage cooler and saw a diet coke bottle that had a name on it.  This was during a time when Coke was putting names on all the bottles.  I looked down in the cooler and saw "David".  See the picture below.  Wow, another tender mercy.  What are the chances, the first store I visited, would have a diet coke at the front with David's name on it?  Coincidence some will say, I think another tender mercy from heaven.  I took that bottle and it now has a home on my credenza in my office at the house.  Pretty sure that will be something I will keep forever.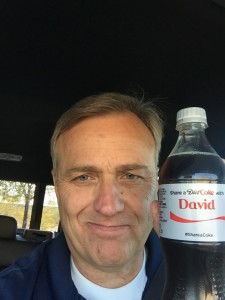 I got back in my truck and said a prayer of gratitude then headed back into town.  It was so hard to even contemplate anything to do with work.  However, I knew I had responsibilities and eventually I would have to go back and I might as well get the ball rolling.  I remember something Elder Neal A. Maxwell said.  I paraphrase here.  He said that in times like this we cannot run through it, we can't detour around it, we simply have to walk through it.  He was right, sometimes we just have to walk through the tough times.  You can try to postpone, or skip it, but eventually you will have to walk through it.  I was determined to walk through it and try to be the best I could while doing it.  I told myself, if I have to go through it, then lets get it started.
I came home from work that night literally exhausted.  It had taken everything I had to be out there.  It took every ounce of energy and all I could muster to simply go to work.  Truth is, everyone was very kind and I didn't have to make any tough or hard decisions, but it was one of my toughest days on record.  I was exhausted.  As I looked back on that day, I realized just how much I had been sustained along the way.  People I spoke to and met with were so kind and were very tender to me.  I stopped for gas and the people around me said hi, engaged me in small talk.  I looked back and saw the sweet tender things that had sustained me each step of the way.  The problem that was supposed to be so big turned out to be something I solved with one visit.  I was exhausted, but in reality it had been a pretty remarkable day.
I would find myself just thinking about David, where exactly was he, who was he talking to, what was it like where he was?  Doctrinally I knew the answer to these questions, but as Father I wanted to know and see with my own eyes.  I needed to see.  Well, I didn't really need to see, but I sure thought I did.  I remember the definition of faith; faith is not to have a perfect knowledge of things; therefore if ye have faith ye hope for things which are not seen, which are true..  I did believe that but I still wanted to know.   Maybe I could find what I was looking for in a book or through someone who had experiences they could share.  That next Sunday would prove to be one of the most incredible days in so many ways.  A day I will not soon forget.