Post #10 You have got to be kidding?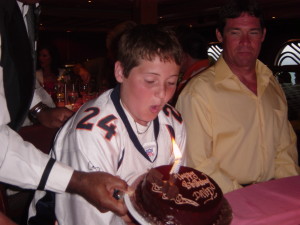 As I have mentioned I have had an appetite to learn all I can about the doctrine, stories, first hand knowledge anything about what happens after this life.  David is my son, and not being able to see him, speak to him, and know how and what he is doing is one of the hardest parts of this journey.  I had been praying for help in finding as much as I could about this topic.
I serve on the Stake High Council, one of our duties is to visit other Wards in our Stake and speak in Sacrament meetings.  Typically we take a young man or young women with us as your speaking companions.  Two Sunday's after David's death, I had previously been assigned to speak in one of the Wards in our Stake.  I knew it would be difficult and one of the things I didn't want to do is draw attention to me and away from the purpose of the Sacrament meeting.  Most people would know we had just lost David and I wanted to fulfill my calling but not make me the center of attention.  I had contacted the counselor in the Wards Bishopric about a topic they would like me to speak about.  They gave us the topic of Temples.  So, I prepared a talk appropriate to the assigned topic.  Sunday morning came and before leaving for my assignment in another Ward, I had the chance to attend my home Ward.  While I was there, our friends were so kind and so loving.  They showered us with love and friendship.  It meant a lot to us.  While I was walking out of the building a friend of ours Amy Johnson walked up to me and handed me a little gift bag.  It had something inside and some of that tissue on the top.  She handed it to me and said she hoped that we enjoyed it.  I thanked her, and while looking at it thought to myself, it looks a bit girly, so I will save it for Trish to open when I get home.  I assumed it was filled with bath and body stuff that girls give each other.  I got in my truck and left for my assignment.  I had never visited this Ward before so I wasn't sure which one of the Church buildings the Ward attended.  We had 3 buildings in the Stake.  I text our Stakes Executive Secretary and double-checked which building they met in.  As I arrived to the building I walked into the chapel.  On the stand up front was sitting another member of the High Council.  I walked up with a smile on my face and asked him what he was doing here.  He said he was speaking in this Ward.  I smiled and said, what Ward is this?  He told me and it was not the Ward I was assigned to speak in.  He laughed and said, what Ward are you suppose to speak in? I told him and with a smile he said, oh that ward meets in the other building.  You have got to be kidding!  I looked at the clock; it was 5 min before the start time.  I quickly ran to my truck and started to the other building.  I text the Bishop knowing he would be on the stand already, and told him I had bit of a problem and would be a little late but I would be there.  When I arrived, the meeting had already started and I was running into the building.  On my way in I saw our previous Stake President, President Tew.  He had been close to our family and especially David.  He stopped me, I told him I was going to speak and I was late.  He said, oh they can wait, I want to hear about some of these Tender Mercy or stories your family has been having, I have heard a lot about them.  I stood there and smiled, and then I just relaxed and told him a few of the stories.  He gave me a big hug and said, well, looks like you just gave me your talk.  I thought, no, my talk is on Temples.  We said good-bye and I ran into the side door of the chapel and on to the stand to take my seat.  I smiled at the Bishop and mouthed to him that I was sorry.  He was kind and gave me a friendly smile.  It then hit me, my speaking companion was nowhere to be found.  So I quickly text him and asked where he was.  He responded back that he had forgotten and that he was in California.  You have got to be kidding?  I text him and told him I understood, I would catch him another time.  Now for those who are not members of our Church, you might not be able to appreciate having a member of the High Council speak in your Ward isn't always the most anticipated talk of the week.  Now this poor Ward was looking at a meeting with no other speakers just me.  I know some of those members were thinking, you have got to be kidding me?  The last thing they wanted was a High Council speaker with 35 minutes left on the clock and I didn't blame them.
When it was time to speak, the Counselor announced me and turned the time over to me.  I walked up to the podium and explained my tardiness and that my companion had forgotten and was in California.  I started to give my prepared remarks on my prepared topic.  Then I just stopped.  I knew in an instant I was not supposed to speak on that topic and the Lord had a different message for me to deliver.  I searched my heart and prayed the spirit would direct me.  I remembered what President Tew had said in the parking lot of the Church.  I put down my notes and began to tell the story of David.  I basically told them what you have read in the first several blog posts.  I bore my testimony and told them that they are never alone, that is one thing I had learned in those first two weeks since David's death.  We are never alone and we are part of a bigger plan.  I spoke for the entire 35 minutes and for me the time had passed very quickly.  I closed my remarks and sat down.  I had shared some very intimate things, I was worried that I may have told too much or had maybe shared more then I should.  When the meeting was over, the Bishop came up to me and said, he had never attended a Sacrament meeting like that before.  For a moment, I didn't know if that was good or bad.  I apologized for sharing such intimate details.  He assured me it was just fine and very appropriate.  As I was leaving, several people came up to me with tears in their eyes and hugged me and thanked me for the message.  One gentleman who was a retired Doctor had lost his sweet wife several years ago.  He just sobbed and hugged me.  He told me about her and how much he missed her.  Her loss was still very tender to him.  He had some kind words, then after our talk, I walked to the parking lot and left.
My next meeting was a Stake General Priesthood meeting at 7:00pm, so I had few minutes I could run home, grab a bite to eat and relax for minute.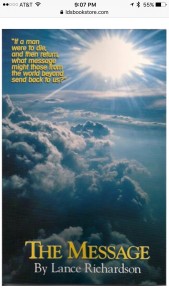 I had been in meetings since 7:00am that morning.  I was not thrilled about attending this meeting, but knew it was where I was supposed to be so I went.  I was thinking to myself, I have been in this suit for more then 12 hours and I was hot and uncomfortable.  I decided to sit at the front on the right hand side next to the door inside the chapel where the meeting would take place, so when it was over, I could hurry right out and into my truck.  The meeting lasted about 1 1/2 hours and it really was a good meeting, but when it was over, I headed straight for my truck.  As I walked up to my truck, I hear this voice coming from behind me, he said, hey are you the guy who spoke in the Lone Mountain Ward today?  I stopped and cringed, this could go one of two ways and I wasn't sure which.  I turned around and told him I was the guy.  He said I have been looking for you.  Once again my thought was, this could be good or this could be bad.  He walked up shook my hand and introduced himself .  I will leave him anonymous.  He told me he had heard my talk earlier that day and while he had never lost anyone close to him he was very touched by my talk.  I thanked him and thought that would be it and was ready to get home.  He went on to tell me that he had felt impressed to find me and tell me about a book he had read.  He had interest in Near Death Experiences and liked to research and read about it.  He told me he had been impressed to find me and tell me about a book he had read called "The Message" by Lance Richardson.  I of course had not heard of it.  In fact I have studied many gospel topics in my day, but never really spent a lot of time on these kinds of books even though I found them fascinating.  However, now I was very interested. He pulled the book up on Amazon and showed it to me.  I asked him if he could take a picture of the book and send it to me.  He did it and text the pictures of the book to me right there in the parking lot. He had told me something about the book and I was very interested in its message.  As you know, I had developed an insatiable appetite for all things about the Spirit World.  Anything that could add to what I already knew about where David was and what he was doing.  I told him I was going to buy this book on-line when I got home and read it right away.  I saw him coming and finding me an answer to my on-going prayers to know as much as I could about life after death.  It was another Tender Mercy.
The conversation turned a bit.  He told me that he had been struggling a bit lately, that he felt he was just hanging on by the tips of his fingers.  He told me a few personal things, he had a beautiful family and a great job, but he was just struggling a bit.  He seemed to be sad to me; he seemed to have some self-doubt.  I could sense that he was struggling.  As he spoke, I stopped him and told him this.  I told him that I had been praying for answers about what David was doing and what kinds of things he was experiencing.  I said today when I spoke in your Ward, there were 200 people there.  Out of all those people the Lord inspired you to come and give me that message.  He knew he could trust you to do what he asked.  He knew you would come to the evening meeting and still find a way to get to me and deliver this message.  As a matter of fact it turned out he had parked right next to me.  What are the chances of that happening?  If he had parked on the other side of the building, he might never have seen me that evening.  Yet there he was and there I was.  I told him the Lord trusted him and loved him.  I also told him how grateful I was for him being willing to listen and do.  He had no idea how important this would be for me.  We talked in the parking lot for quite a while.  When we finished we were the only ones left in the parking lot.  We hugged, swapped phone numbers and I left. It was my intention to get out of there as fast as I could and get home.  The Lord had other plans.
When I got home, Trish is in the office working on her Seminary lesson.  She looked at the clock and said, well you're a bit late.  I smiled and said yes but your not going to believe what happened.  I told her the story about the meeting, the man finding me, telling me about the book, everything.  I was so excited.  I had brought the gift in and handed it to Trish.  I told her that Amy had given me it, and I thought she should open it, as it was probably girly stuff anyway.  As Trish was looking in the bag, I was pulling up the picture of the book on my phone that he had sent me.  I was telling how I was going to order the book right then.  As I turned my phone to show her, she was opening the bag, she reached in and pulled out the contents.  I said look at this book, she smiled big and said holding a book from the bag and said, you mean like this one?  You have got to be kidding?  In that bag was the very book this man had told me about.  I just stood there frozen.  I had to stop and consider all that had to happen for all of this to take place exactly the way it did.  I could not believe what had just happened.
I thought about, my being told the wrong building, my being late, meeting President Tew in the parking lot, my speaking companion forgetting and not being there.  Amy deciding to hand me the gift bag when she did, my going to the meeting that night, when I almost didn't.  The man parking right next to me, he being willing and brave enough to seek me out and then tell me about the book.  Then the timing of Trish opening the bag and pulling out the book at the exact moment I was showing her the picture of the book.  It was like something you see in a movie.  WOW, I could not believe all that had happened.  What a blessing, what a Tender Mercy.
I immediately took a picture of me and the book and text it to the man whom I met in the parking lot. I made sure he understood his roll in this absolute miracle.
Later I would call Amy and tell her the story and thank her for the wonderful gift.  She told me that she had been meaning to give it to me for some time.  However, didn't know if the timing was good or not.  She had read the book when her Father died and it had really helped her and meant a lot.  She said she finally just decided that she would give it to me.  What if she had waited, what if I had gotten to the building on time, what if, what if?  None of it mattered because it had happened with exactness and a precision that can only be managed by divine intervention.  I know some will message me and say, oh Greg it is all just a coincidence, God doesn't get involved in that kind of details of our lives.  Well, let me be clear to all who read this.  I know he is involved in the details of our lives.  I have witnessed through out my entire life, and since David's death more times then I was worthy to receive.  Our Father in Heaven knows us, loves us and is very involved in our daily lives.  That is something I know for sure.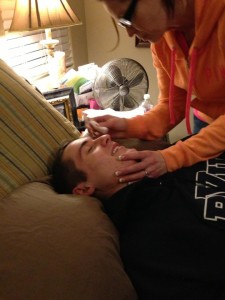 I went straight into my room, hit my knees and thanked the Lord for this wonderful outpouring of love and an answer to my prayers.
I then spent the next 3 hours reading the book from cover to cover.  At times tears just rolled down my cheeks as I read and received knowledge that answered my exact questions in a way that was exactly what I needed.  There was no accident here, there was no coincidence here.  I would read the book 6 more times in the next 3 days.  Its "Message" was peace to my soul.
Sense then, I have bought several copies of the book and have given it out to those I have been impressed to give it to.  I am going to do as Amy had done and pay it forward.
Can you believe how lucky I am?  At times I feel like the luckiest guy in the world.